"Coffee Time with Yuko Morimoto" Part 3 Online Lecture
Would you like to solve your usual questions or doubts about the Spanish language?
Yuko Morimoto, a Spanish language professor living in Madrid, will answer your questions in a cafe-like atmosphere.The third topic will be announced as soon as it is decided.
Yuko Morimoto, who has a broad teaching experience, is familiar with the points that Japanese people tend to trip over when learning Spanish and also the areasthat they are not good at.
If you can listen to the explanations in Japanese and can solve your worries, Spanish will become easier and even more fun!
This lecture is aimed to all Spanish learners regarding of their level, so feel free to join us!
Note: Although it is possible to come to the Center, there is a limit to the number of people since the online lecture will be held in a language class, so please apply early.
Saturday, July 17th, 2021
  18:00
General Public: 1000 yen / Tiempo Member: 500 yen
Levels: Aimed to all levels
Deadline for the application: July 15th, 2021
Professor
Yuko Morimoto
After graduating from the Department of Hispanic Studies at Sophia University (Japan) and completing the Master's Program in Linguistics at the Graduate School of Languages and Linguistics at the same university, she received herPh. D. from the Complutense University of Madrid. Currently,she is a Spanish language professor at the Department of Humanities at Carlos III University in Madrid.
Among her most well-known books are"Kon'natoki, douiu? Supeingohyougen-ryokutorēningu" ("What do you say in this situation? Spanish Expressiveness Training") (NHK Publishing), "Kaiwanisupaisumásmásoishiisupeingo" (Let's spice our conversation, more more delicious Spanish) (NHK Publishing), and El artículoenespañol (Definite and indefinite articles in Spanish) (CASTALIA).
Level up your understanding and conversation skills in Spanish!
Mrs. Monica Alvear, presently, Tiempo's honorary chair, is also one of the center's founding members and lecturers. Born in Santiago, Chile, she majored in education at the Preschool Faculty at the University of Education in Santiago.She is a veteran lecturer who has been teaching Spanish for ten years at Fukuoka University, Kyushu Sangyo University and Daiichi Keizai University, etc. after coming to Japan. Alvear not only teaches Spanish but also about Chilean dishes. Her "Monica's Cooking Class in Spanish", held every month, is also very popular.Now she is also in charge of a new kind of class in Spanish about classical to contemporary Spanish literature!
Would you like to improve your Spanish skills through literature and conversation in a relaxed atmosphere in the morning?Improve your reading comprehension and vocabulary while reading various authors' works, from classical literature such as Pablo Neruda, Garcia Márquez, Gustavo AdolfoBecquer to contemporary Spanish literature!
In addition, she will cultivate the ability of expression in Spanish through commentary, book reviews, and consideration of different works. Each topic is completed in one session at a time, so you can participate only on convenient days. Feel free to take the classes.
Join us for a Spanish lesson while reading aloud with Monica!
Saturdays, August 7, 2021. 11:00 - 12:20
1 class: 2,600 yen / 2,400 yen (T.I. Member)
* Aimed to experienced Spanish speakers.
Professor: Monica Alvear
Monica's Cooking Class in Spanish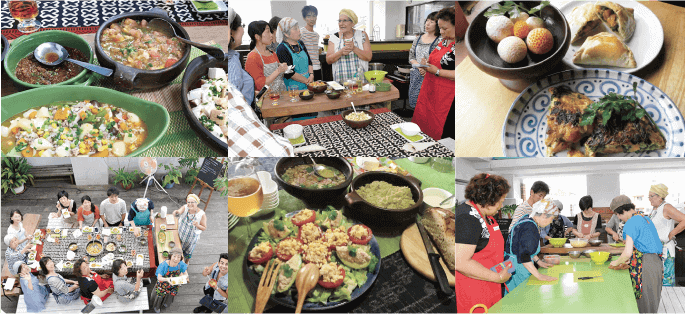 Born in Santiago, Chile and as a long time Spanish language instructor, Monica Alvearalso has broad experience and knowledge of cooking, food culture and food coordination.In addition to learning recipes and cooking techniques, while using Spanish, you can learn about ingredients and kitchen utensils as well as table manners and table settings of various countries.Anyone can participate regardless of their cooking experience or level of Spanish! Men are also encouraged to participate.
Saturday, July 24 and 31, 2021. 11:00 - 13:00
1 class: 2,600 yen / 2,400 yen (T.I. Member)
* Ingredients fee: 800 yen
* Anyone can participate.
Professor: Monica Alvear