About the Project / Greetings
Center Chair / Director Santiago Herrera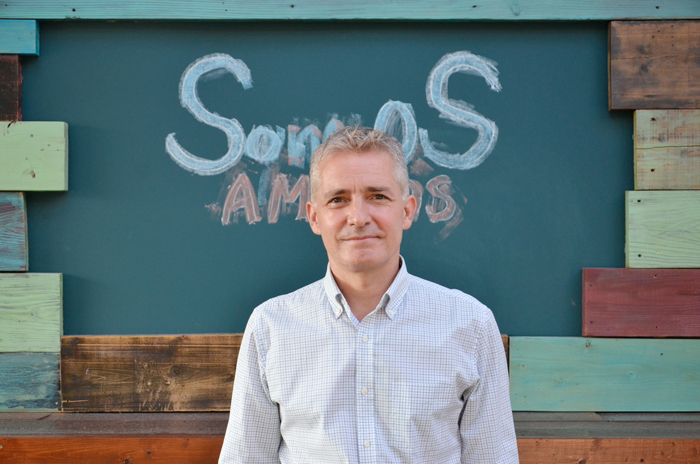 Thank you for reading our project page. My name is Santiago Herrera, director of NPO Tiempo Iberoamericano, a cultural center based in Fukuoka. For 23 years, we have promoted "sharing the differences" through dance, music, arts, language and food. I truly believe that "By approaching each other's differences, respecting one another and being attracted to various different cultures, we will become closer to the people we want to be." Over the years, we could support these goals through not only through classes at the Center but also through very special events, such as Isla de Salsa, Vivela and Sakura Tango. (Please see more about our activities at the above links on this page.) Our center also has a restaurant which serves special Latin American cuisine.
Children to the elderly have come to the Center to enjoy a wide variety of activities. In the past, principally without relying on outside funding, Tiempo was able to manage successfully. Unfortunately, the impact of the Corona virus has heavily affected our operations' revenue which totals 150 million yen per year. Consequently, we expect revenue will drop to under 60 million yen. Although we have made significant cost reductions by decreasing our activities, fixed costs will still be incurred to maintain the basics necessary to continue our activities, such as the rent which is about 24 million yen (12 months).
Our current activities even with major restrictions are expected to suffer a deficit of 40 million yen this year. And even if all the possible subsidies from the government and local government of about 15 million yen are obtained, there will still be a deficit of 25 million yen in operating funds. In addition to the surplus income from the previous fiscal year, for the time being, we will use a loan to fund operations. Consequently, we have decided to launch this project, starting - September 5, 2020 and ending - November 3, 2020, to raise 10 million yen for the survival of Tiempo and the continued promotion of cultural exchange. (Tiempo Business Report at this link.)
https://www.nvc.pref.fukuoka.lg.jp/f_cities/profile/1224
We really appreciate your support! As you will see, there are many levels of donations and with them we will send you special rewards in return. For your information, this is an all All-in type of campaign. Even if we don't reach our final financial goal, the project is still on and gifts will be sent.
Let me end by introducing you to our campaign slogan- #SomOS AMIGOS. It means we are friends in Spanish. With SOS we also included the meaning of "please help your friends."
Please stay healthy and safe during these times. And when you can, please visit us online or at 11511 Daimyo Bldg. in Fukuoka!
At ISLA DE SALSA 2009, the only king of Bachata Juan Luis Guerra made his debut in Asia and composed the song "Bachata en Fukuoka (Bachata in Fukuoka)" to remember his performance in Fukuoka.

In 2010, Juan Luis Guerra won the Latin Grammy for Best Contemporary/Tropical Fusion. "I composed this song when I performed for the first time in Japan. That is why I want to dedicate this Grammy to Fukuoka!" That was the enthusiastic message he gave to the world while holding his trophy.
¡Vívela! Salsa Tour: Fukuoka citizen's activities towards Sydney Opera House!

The national tour "Vivela! Salsa Tour" with our main overseas band invited to "Isla de Salsa" started in 2002. It was possible to reach not only Fukuoka but also all of Japan with different cultural exchanges through the best level of Latin music in the world.The tour has included the following cities north to south: Hokkaido, Yamagata, Sendai, Gunma, Tokyo, Kanagawa, Kanazawa, Aichi, Kioto, Osaka, Hiroshima, Fukuoka, Kumamoto, Nagasaki, Miyasaki, Okinawa.

The Cuban Salsa Legend- Los Van Van - invited in 2010, performed not only in Japan but also in three Australian cities, including the Opera House in Sydney. ¡Vivela! Salsa Tour has now expanded from a tour in Japan to a tour in the Asia-Pacific.
First International Tango Festival in Kyuushu "Sakura Tango Festival -Sakura and Asia and Tango" started in 2014

This festival was planned to deepen the friendship between Japan and Tango during the cherry blossom season, which can be said to be one of the symbols of Japanese culture.
Tiempo's 20th Anniversary Special "3.2.1 ACTION! URASHIMA!"

With French Laurent Berger and Oria Puppo as both scriptwriters and directors, with the collaboration of guest participants from Tokyo, Osaka and Fukuoka as well as students, teachers, and staff from Tiempo's language, dance, art and music classes performed together in an original musical based on "Urashima Taro" as the motif 3.2.1 ACTION! URASHIMA!
Production collaboration with ESPN documentary "Last Train to TOKYO "

"ESPN", owned jointly by Walt Disney Company and Hearst Communications, coordinated programs produced with a focus on Japan, the Tokyo Olympics' host country.
During the NHK E-Television "Tabisuru Supeingo" program currently being broadcasted, Tiempo's founder and director Santiago Herrera appears as Kafka Shishido's travel partner.

More information about the program: https://www.nhk.jp/p/spanish-tv/ts/JY3G8V12Z3/
Use of the funds
• Necessary expenses of the center (rent and costs of gas and electricity) in order to continue our activities in 2020.
• Production cost of Thank You Gifts and shipping fee.
About Thank You Gifts
The slogan of our project is "SomOS AMIGOS" which means "we are friends" in Spanish. At the same time, it includes the meaning of "please help your friends."
Sebastian Escoffet, world class film-music composer, has contributed with songs for the "SomOS Amigos" campaign's video.
Professor Shinya Mori (an art instructor of our group), a painter who supported this project, created the logo design.Gallery MORYTA: https://g-morita.com/archives/exhibition/shinyamori
Upcoming Events and Festivals
Among the Thank You Gifts, there are some of the following events. Depending on the situation of the Corona virus, the event may be canceled or changed. In that case, we will send information in detail about that as soon as possible.
• 7th Sakura Tango Festival
Scheduled for March 25-March 28, 2021.
Venue: Nishitetsu Hall and Dining Event Space Tiempo Hall
• 24th Isla de Salsa World Beat Festival
Scheduled for August 2021 – weekend of first days of September
Venue: Nokonoshima (West Ward, Fukuoka City)
• ¡Vívela! Salsa Tour
Scheduled for August 2021 – first days of September
The cities for the concerts are not decided yet.
• Flamenco Show by Domingo Ortega or Inmaculada Ortega
Scheduled for February 2021
• Tango Party MILONGA
Currently, we are refraining from holding it, but normally it is held every Sunday at Tiempo Hall.
• Latin Night SALSON
Currently, we are refraining from holding it, but normally it is held every Saturday at Tiempo Hall.
Final words
Thank you for reading this explanation to the end!
We will continue the challenge of creating a borderless environment in which diverse cultures coexist and providing a unique place for "Tiempo" where anyone can interact and experience. This will be done with the hope that this activity can contribute to the development of the local community. To that end, we hope that as many people as possible can share our thoughts. We also hope that the Corona virus will end soon so we can meet the smiles of many people again.
This project is an All-in type of campaign. Even if we don't reach our final financial goal, the amount we gather until November 3rd, 2020 at 23:59:59 will be funded.