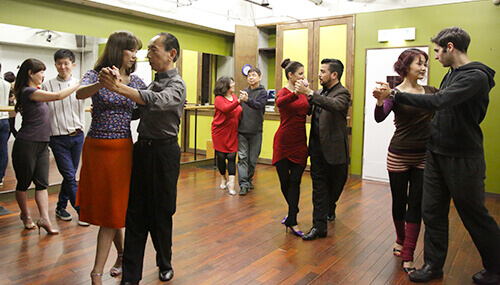 We also offer a 2-month trial course for people with little experience. If you are not sure aboutregistering for a regular class, we recommend that you try this trial course.
60 minutes per class / once a week / 8 weeks (2 months)
It is an ideal option compared to a regular class. We recommend that you register for this course if you want to try out the basics before taking a regular class!
The class schedule options are as follows:
Mondays 19:00 - 20:00
Tuesdays 19:00 - 20:00
Sundays 12:10 - 13:10
Lesson fee: 17,600 yen (8 classes)
Instructor: Julian & Natalia
Lesson fee: 17,600 yen (8 classes)
* We will offer this course when a minimum of 4 people or more register.
* Annual membership fee of 3,000 yen is NOT required for this course, but if you start a regular introductory group class after this course, this payment will be required.
* Even if this course has started, you may still be able to join with a per diem charge, so please contact us.
Benefits for 2-month trial course students:
Free admission for Tango Party "MILONGA"
* Please show your membership card or student card at the entrance.
Point to consider when taking this course:
1. Inform us which course and when you would like to take it.
2. As soon as 3 people or more register, we will inform you about the starting date.
3. Pay the registration fee at the reception on the starting day.
Notes:
* You are required to pay the total amount of this course.
* If you miss one class, you cannot take a make-up class because this is not a regular class.
Please contact us if you have any further questions.