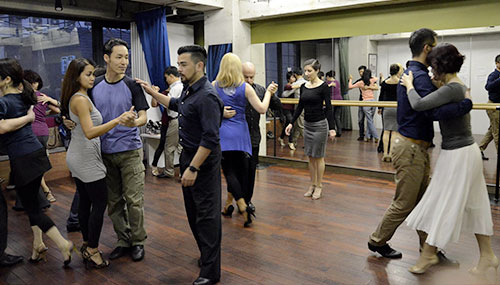 The levels are divided into beginner (Level 1), elementary (Level 2), intermediate (Level 3) and advanced (Level 4).You can start from beginner all the way to advanced dancer at your down pace.
Beginner and Elementary (Level 1 and 2):
At these levels, you will get used to the basic posture and steps. These lessons are the first steps to start enjoying Argentine Tango.
Intermediate and Advance Level (Level 3 and 4):
At these levels you can polish the techniques learned at the previous levels.
Special benefits if you take group lessons!
1. Member discounts available for various events.
2. Sancho Panza dinner meal fee is 5% off by showing your membership card!
3. Technique classes aimed to group lessons' students for free are held monthly.
In addition to techniques that allow you to review the basics, there are lessons that incorporate Latin dance, tango, and flamenco, fostering increased cultural interaction.
Group lessons: Tango or Milonga & Waltz
* 70 minutes per class
* Minimum number of 4 people are needed to open a course.
* Make-up classes available.
How to register:
Choose a class from our regular class schedule and enroll to become a member.
If you are not able to find a suitable time schedule, please feel free to contact us.